BCM AR-15 Complete Pistol Lower Receiver Description
BCM AR-15 Complete Pistol Lower Receiver in stock now. This unit starts with a forged 7075-T6 aluminum lower receiver which has a hard coat anodized matte black finish applied to it. Additionally a 7075-T6 aluminum tube is used for a receiver extension to ensure strength and durability. An SB Tactical SBA3 Pistol Stabilizing brace is used for comfort and stability.
Bravo Company has a long history of leading the industry in manufacturing and quality control standards. It has been well documented BCM's strict tolerances and the scrutiny that goes into ever part they use to build items which leave their factory. You can sleep easy at night knowing that you made a wise decision to use a BCM pistol lower for your AR-15 Pistol build. Sure you can pay less for inferior brands, but you get what you pay for.
Buy BCM complete lower receiver in stock
A long time popular item with many of our customers, the BCM® AR-15 Complete Lower Receiver is a perfect choice when building up a no-nonsense AR for defense, training, competition, or any situation where reliability is a must.
Whether you are looking to simply do a "Two Pin" build by attaching a complete upper receiver or you are building out a customer upper, the BCM® Complete Lower Receiver is an easy and dependable way to complete your build.
Machined from 7075-T6 aluminum forgings with a Mil-Spec hard coat anodized finish, the lower receiver is completed with the BCM® small parts that keep this receiver as reliable as you would assume with the BCM® reputation.
The trigger is the BCM® PNT™ trigger which has a nickel Teflon finish and is un-notched to be compatible with 9mm use, and the BCM® trigger guard gives extra space when shooting with gloved hands.
The popular BCM® Mod 3 Pistol Grip comes standard on the lower receiver.
A BCMGUNFIGHTER™ Stock is available in your choice of Black, Flat Dark Earth, or Wolf Grey on a Mil-Spec receiver extension which also includes a BCM® QD Endplate and staked castle nut.
Machined Aluminum Forgings 7075 T6
Hardcoat Anodizing: MIL-A-8625F, Type III, Class 2
Caliber marked as "Multi"
Includes a USGI H buffer
Build with confidence and ease with the BCM® AR-15 Complete Lower Receiver.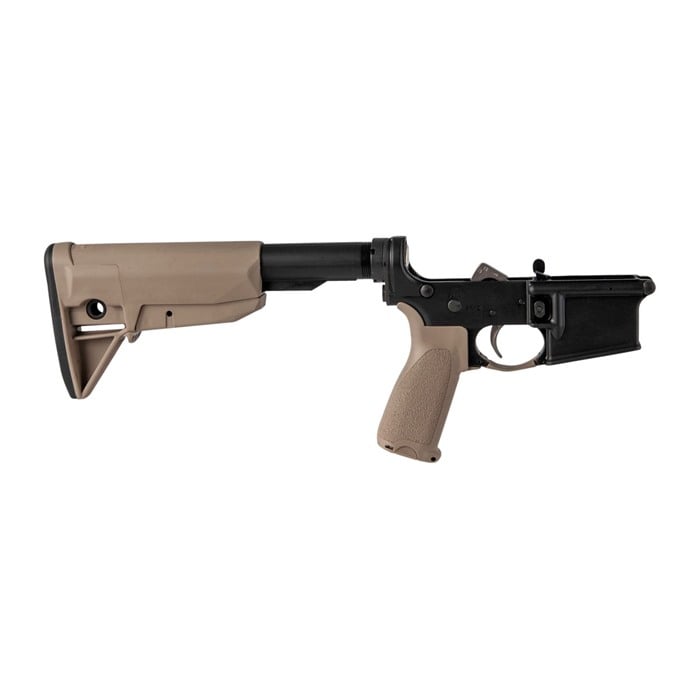 BCM Complete Pistol Lower Receiver Forged Specifications:
Bravo Company, Pistol Lower Group with Receiver Extension, Semi-automatic, Pistol, 223 Remington, 556NATO, Aluminum, BCMGUNFIGHTER Pistol Grip
BCM PNT(TM) Trigger (Polished Nickel Teflon)
BCM QD Sling Mount End Plate
BCM Enhanced Trigger Guard
LRG-SBA3-BLK
Multi-Caliber Compatible
BCM4
PNT Semi Auto Fire Control Group
Forged 7076-T6 Aluminum Lower Receiver
Receiver Hard Coat Anodized per Mil-A-8625F, Type III, Class 2
7075-T6 Receiver Extension
Carbine H Buffer
BCM Mod 3 Pistol Grip
BCM PNT Trigger
BCM QD Sling Mount End Plate
BCM Enhanced Trigger Guard
SB Tactical SBA3 Pistol Stabilizing Brace
AR-15 Magazine Compatible
Staked M4 Lock Nut
USGI H Buffer (1 USGI Tungsten, 2 Steel)
Low Shelf for RDIAS Installation
Low Shelf for Accuwedge Use
Fire Controls Marked SAFE and SEMI
All BCM Products and accessories are 100% made in the USA
Approximate Weight 1lb. 12oz
BCM Lower in stock!